Last week , I was blessed to receive
these lovely hand dyed crochet doilies
in the mail all the way from NSW, Australia
an Australian Scrapbooking Master( 2006) -
{just to mention one of a million crafty talents she has ! ;) }
Check out her blog
here
to see what I mean
I couldn't wait to make some cards with these pretties -
here's one I finished today .
I've also used the latest Making Memories'
metal embellies to complete the card .
I have used an MM
embossed star charm,
a metal flower on top of the scrunched ribbon
& a glittery copper deco brad for the doily center-
all freshly brought home from our LSS today !
;)
I didn't have the heart to cover up the pink doily too much -
I thought the pattern has such wonderful, pretty details !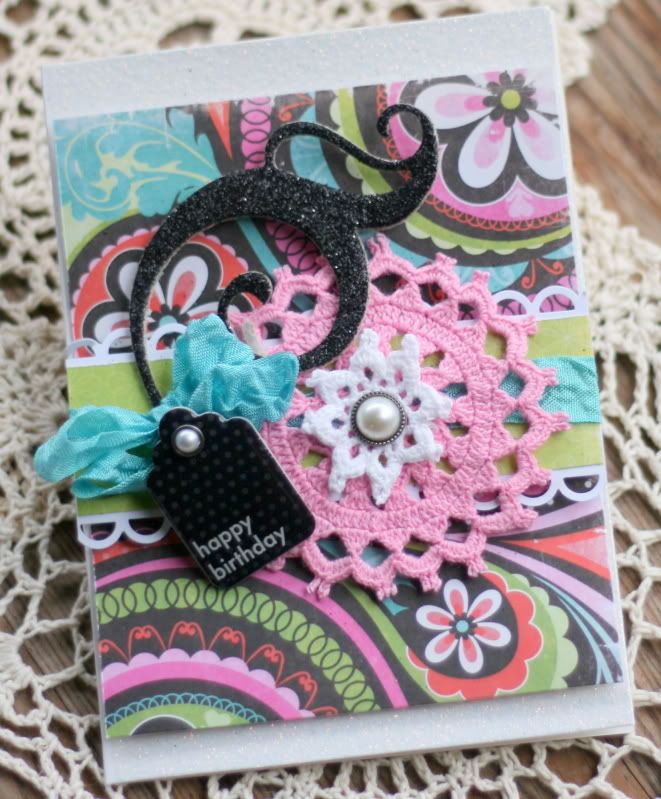 I am loving the combo of MM's embellies
with this WRMK Tiffany papers .
Again , to show off the lovely doily patterns I have used 2 together here,
with an MM pearl brad to finish the flower off .
Sandra has the most reasonably priced hand dyed crochet doilies at the mo -
Here's a sampling of other colors she has in store :
Thank you soo much , Sandra, for the very happy mail !