First off, I just recently discovered how to make my own version of Glimmer Mist right at home -

here's a link on you-tube that got me started -

Basically the formula here is : some water in a bottle that can mist + arcylic paint + glitter glue .
Other variations include : water +Tim Holtz® Distress Ink Reinker + Perfect Pearl powder.


So if you haven't invested in a lot of $ buying these Glimmer Mists/ Maya Mists etc
try making some of your own perhaps ! & have some spray bottle fun with them ! :lol: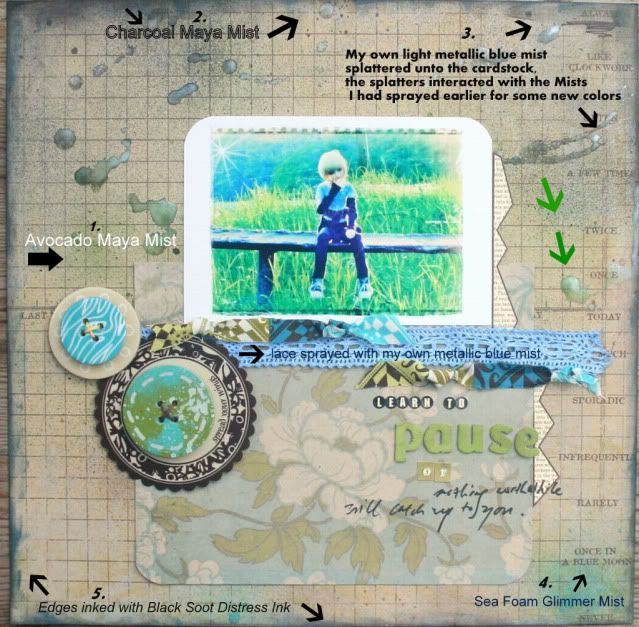 I love using more than one color of Mist on my projects usually - love layering several colors especially .

For this particular layout , starting with the top half - here's what I did :

1. I start with the lightest color of choice in this case - Avocado Maya Mist -
I randomly sprayed it over the top half of the cardstock especially in the areas outside of the photo .
( I usually mist first before I glue anything down to the background.)

2. The color I wanted to use next is Charcoal Maya Mist - to add some depth of color,
as the photo I'm using here has rather bright colors.
I sprayed this color closer to the edges of the cardstock.

3. I decided to try splattering some Mist for this layout, for the first time .
I used my own light metallic blue mist ( my base color is blue metallic acrylic paint & added some black stickles ) for the splatters ( use a paintbrush ) .
And then I made an accidental discovery after this step as the splatters I made interacted with the Avocado & Charcoal Mists that I had sprayed on earlier and
had not quite dried up when I splattered.
Hence some of the splatters had some depth of color.

4. For the bottom half of the cardstock ,
I sprayed Seafoam Glimmer Mist ( a blue/green color )
to match some of the color in the pic I was using here.

I also sprayed some Brown Glimmer Mist after that -
going in towards the middle of the cardstock.

5. Lastly , to anchor all the misted colors down on the background , I inked Black Soot Distress ink all around the edges . Alternatively I could have dry painted the edges with a dark paint color .

All in, for this layout, I used 5 colors of mists for the background .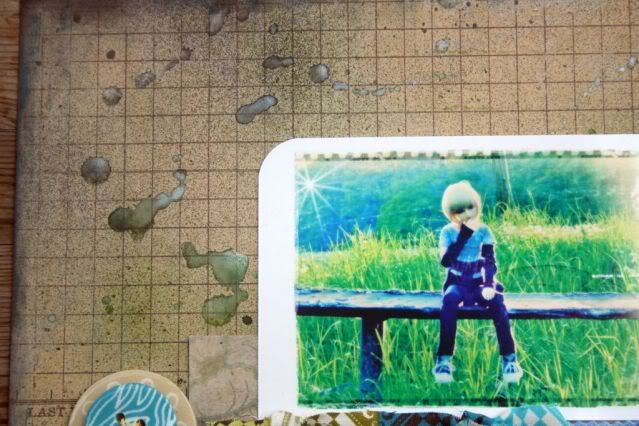 I hope this helps you to give your own misted background a try ! :lol: