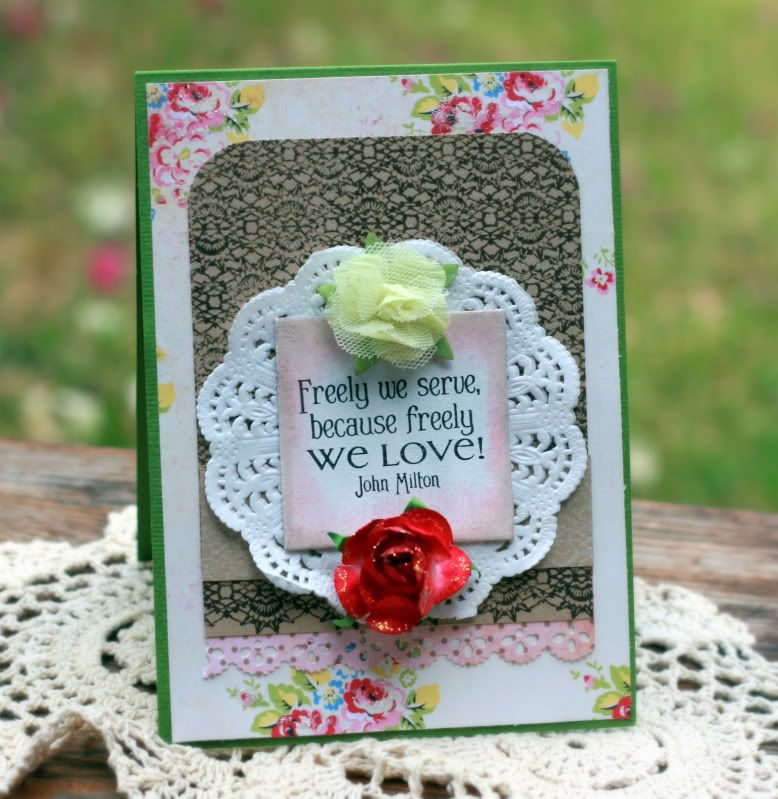 I thought I'd try out the latest challenge over at Our Daily Bread Designs Blog
to make use of my brand new stamps .
The latest challenge is to
use ODBD images to create your own background papers.
ODBD background stamps are okay!
Just make sure to have at least one panel that was totally stamped with ODBD images to create the paper.
So I tried out the Crocheted Background stamp on a scrap piece of kraft.
I first stamped it with Brilliance White ink but didn't achieve the look I wanted.
So I tried stamping with Walnut Stain Distress Ink on the reverse and quite like how it turned out.
I also used a scrap piece of rejected stamping here on the panel .Lol.
The sentiment is from the ODBD Full of Grace
Serve set.
I have been stamping up sentiments on these Maya Rd scroll chipboard pieces
which I applied gesso on first . Works for me !
I then ink them up in colors to suit the project when needed.
Other supplies :
Girls' Paperie Kitch pps, Prima florals,
Stickles - Frosted Lace, Diamond.