Inspired today to use up more Bo Bunny Ad Lib pps with Magistical Memories'
Solid Bubble Loop chipboard set.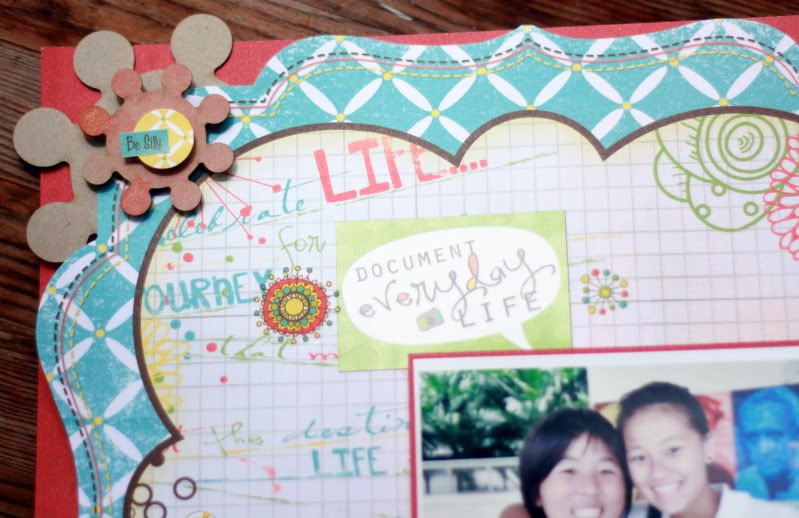 I layered the smallest sized Bubble Loop over the largest piece for yet another fun chipboard sun take.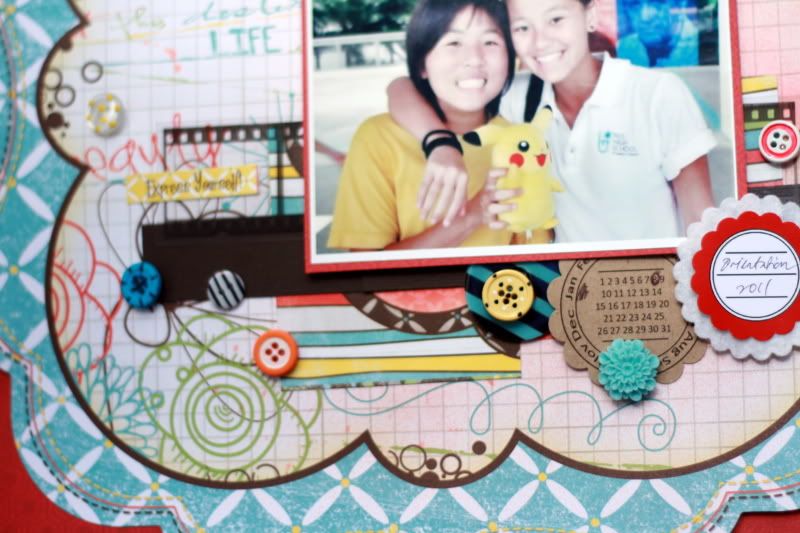 Used up some Such Sweet Tierney Buttons and journaling spots by Tanya Leigh.
I am still loving the new TA Alaskan Salmon Chalkboard mist - used it on the smallest Bubble Loop
and a little on the die cut background behind the photo.
& while our collective thoughts and hearts must still be with Japan right now ,
here's a link on Facebook where you can go & share some of your thoughts or feelings
The spirit & resilience of the Japanese people right now is definitely more than inspiring -
From Twitter ( translated by Jun Shiomitsu )
* 献血の列
日本は強いです!大阪難波の献血施設は被災地の方の為に超満員の順番待ちでした。私欲の無い列を初めて見ました。感動しました。被災地の方々、全国でその辛さを受け止めます。諦めずに頑張って下さい!
Blood donations
Japan is strong! At Osaka I saw a LONG line of people waiting to give blood at the blood donation center. This is the first time I have seen such a queue of selfless people waiting patiently in line just to give. It was a moving sight! To everyone in the hard-hit areas, we your countrymen accept your suffering as our own and we share in your grief. Do not give up! Stay strong!
* 渋滞した交差点での出来事
一回の青信号で1台しか前に進めないなんてザラだったけど、誰もが譲り合い穏やかに運転している姿に感動した。複雑な交差点で交通が5分以上完全マヒするシーンもあったけど、10時間の間お礼以外のクラクションの音を耳にしなかった。恐怖と同時に心温まる時間で、日本がますます好きになった。
At a congested downtown intersection …
Cars were moving at the rate of maybe one every green light, but everyone was letting each other go first with a warm look and a smile. At a complicated intersection, the traffic was at a complete standstill for 5 minutes, but I listened for 10 minutes and didn't hear a single beep or honk except for an occasional one thanking someone for giving way. It was a terrifying day, but scenes like this warmed me and made me love my country even more.
* バス停で・・・
バスが全然来ない中、@saiso が、バス停の前にある薬局でカイロを買ってきて、並んで待ってる人みんなに配った!
Bus stop mini episode:
It was freezing and bus was taking ages to arrive. "@saiso" left the queue to run to a nearby pharmacy. He bought heating pads and gave one to everyone in the queue!



Three days after the tsunami, three people were rescued from their attic. Upon being asked to comment, the elderly man smiles and says,

"We're fine! I've experienced the Chile tsunami too so I'm fine! LET'S START REBUILDING!"