This month I chose to work with My Little Shoebox's Heartfelt line for my DT projects .
I definitely enjoy switching out to a different style every now and then
and it's only too easy to go shabby chic with this Heartfelt line .
And how about something different to share on this blog ? LOL
Evidence of my sometimes cosmopolitan life ?!
That's the nice thing in little Singapore -
we don't have to travel out of the island to meet peeps from all over the world.
Can you even guess the different nationalities represented here? ;)
Checking out a new Italian restaurant called Capri last nite - we left very very late to say the least !
gotta love their Tiramisu and homemade ginger liquer , not to mention their Sembuca shots !!!
We have just finished off a plate of warm lemon cake here - mamma's recipe ! yums !!
It was full house last night , great going for a one month old restaurant.
Happy to report too that my 2010 weight target
of losing just 5 kg is finally materializing NOW !
( oh yeah! Never say NEVER ! )
yup , just lost 3 kg ( more of it was water I suspect ! )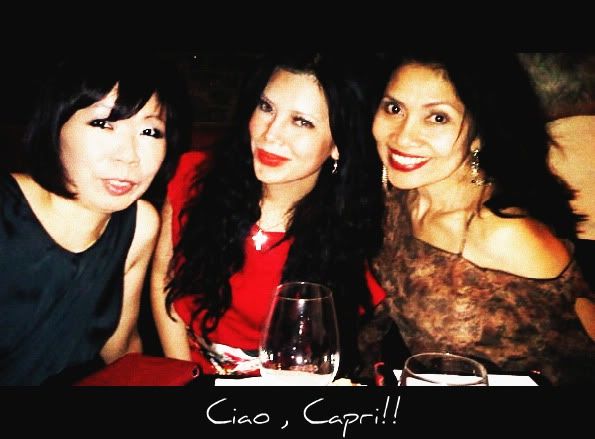 and I can finally appreciate wearing dresses ! yay !
enjoying a more active social life ( oh yeah ! - my amicis here are totally non scrappy pals ) ,
exercising
, being able to eat anything I want .
Oh the joy & wonder of a simple change like that ! I kid you not .
It's all thanks to having discovered Resveratrol & Dr PPARs( a wholefood )
in the last 3 months. ;)