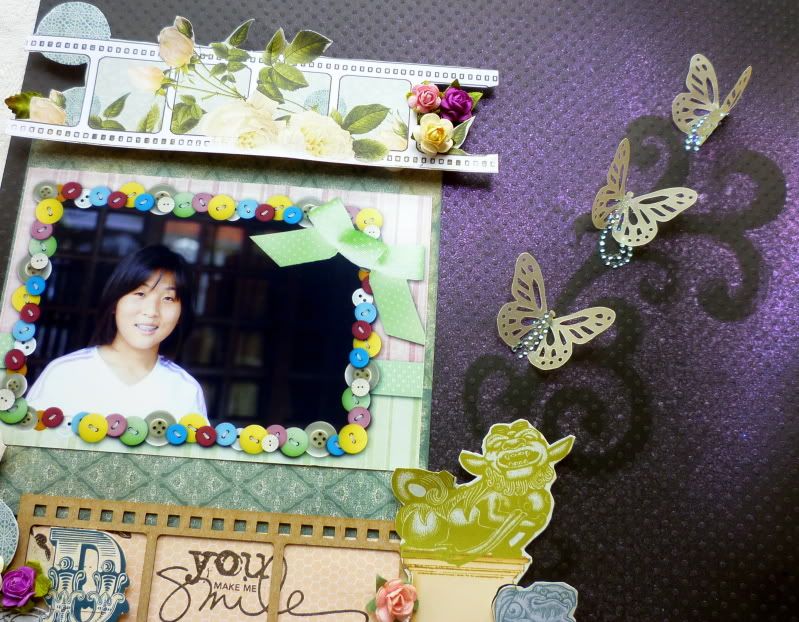 I realised I have a piece of
Magistical Memories' mini film strip
and wanted to see how it would work out
Still very happy to be working with the
Webster's Pages Hollywood Vogue line -
I cut out all the patterns on the Foo on Film paper
and re-pieced them together ,
using the sketch as inspo.
It feels like I haven't misted on a layout for a loooong time
so I had to try out something new here -
I used a new found brand of mist - by Luminarte -
their pearl mists have arrived before Ranger's Pearl ones
& this is the only color I have on hand - a pearl Lilac.
I think it has the most shimmer amongst all the brands available currently .
I used it with a new Prima mask .
I am loving the MS Monarch butterfly punch with vellum here -
it's also a good way to use up leftover vellum from a previous project -
& we're all such frugal scrappers , rite , we just can't throw out leftovers.
The naked chipboard trend is so in right now
and I just had to try it out here -
I do like the original color of the chippie so that helps ! .
I stamped an Ali Edwards Technique Tuesday sentiment
here in Brilliance Black ink ,
before backing the film strip with the petite size Double Feature pp.
LOTS of fun chipboard goodies to play with throughout your month as designer!!